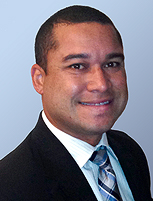 Jorge Munroe brings his energy and talent to the Orlando sales organization as a Senior Loan Officer. Jorge has more than 15 years of experience as a leader in sales and marketing. He has worked as a loan officer and a mortgage broker. His experience working at a large bank and as a broker has helped him to realize that the best fit for a customer is a smaller local lender like MEP.
Jorge is a positive person who is motivated by the feeling of fulfillment in helping people recognize their financial dreams of home ownership. He focuses on customer service. "When you put the customer first everything else falls into place," he says. He is also incredibly excited about the range of products he can offer as a representative of MEP. "Because Mortgage Equity Partners is a direct lender we have the ability to offer programs that other companies simply cannot. This is great news for borrowers!" he said.
In his time off, he enjoys spending time with his family. He is an avid soccer fan and still plays himself. He also enjoys golfing and fishing.
Please contact Jorge to discuss your residential home loan needs at 407-222-5489.