< back to New Hampshire branches
To start a new application click Create Account below.
If encountering an error and you are using an incognito browser or have third party cookies turned off in your browser, you will need to update your browser settings to accept them.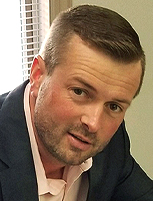 Michael Fita
Loan Officer
MLO# 728808
Cell: 617.594.9532
Email: mfita@meploans.com

PROFESSIONAL PROFILE
Michael is a focused professional with more than 15 years in financials between wealth advisory and mortgage lending. His approach is collaborative and works hand-in-hand with his clients to reach their goals. He understands the complex nature of the business and works to guide his clients in the right direction. He has excellent attention to detail, which is required in the mortgage industry if you want loans closed quickly and efficiently. "I have always enjoyed working with numbers, and they come easy for me. Helping people with their finances–be it a home purchase or refinance of their existing mortgage is something that I enjoy!"
Michael is happy to be at MEP because while it is a smaller scale shop where employees know each other's names, MEP also has enterprise-level resources. MEP functions with just the right amount of professional personal touch while having the necessary resources in place to compete with significantly bigger competitors in the mortgage lending field.
MEP has the best of both worlds for loan officers and borrowers. We go the extra mile to make sure the customer is always happy at the closing table.
To reach Michael at any time to discuss your mortgage financing needs, call 781-417-5646.