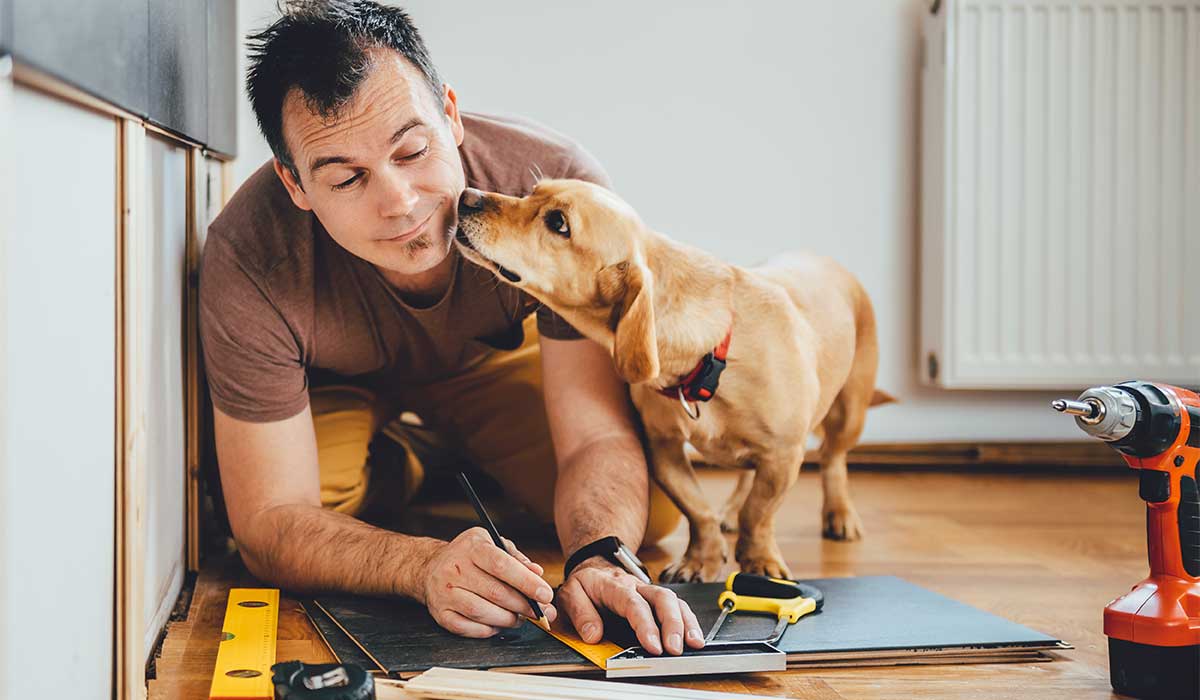 Mortgage rates are at historic lows, and housing inventory is even lower!! With fewer homes on the market and the most desired properties selling above the asking price, some homebuyers have decided to stay put and make the best of what they have. In 2020, we saw homeowners adding spaces for homeschooling, home offices, and home gyms! What is trending for 2021? Here are the most popular home improvement trends for the upcoming year.
Top Home Improvement Trends for 2021:
Laundry Rooms
Laundry Rooms were deemed essential for most of 2020, and the same is true for 2021.  Whether you were hibernating all of quarantine and wore the same "groutfit" (gray-outfit) or had to work in-office, the washer and dryer were the most used appliances. Trends for 2021 include adding functionality and beauty to your laundry room. Adding foldable wall-mounted drying racks makes great use of limited space. Installing shelving units above your washer and dryer provides convenient storage options for detergents and other must-haves. To add some spunk into your laundry day, those who dare to two-step while folding laundry are even installing sound systems.
Outdoor Lighting
Outdoor lighting can instantly spruce up the look of your home, especially at night. Not only do outdoor lights make your home glimmer in the moonlight, but they're also great for safety and an extra sense of security. A fun outdoor lighting trend for 2021 is phone-controlled outdoor lights. A perfect alternative for those who need to turn the lights on when not home, this function will also help reduce energy costs. A hot trend that has been around for ages but is now getting the recognition it deserves is Outdoor String Lights! String lights have been made more durable for weather and can significantly impact an outdoor patio for very little money.
Outdoor Rooms
One of the biggest home flexes of 2021 might just be sipping lemonade on a hot summer's day in your outdoor room, patio, or deck. Studies conducted by Trex Industries have shown that porches, patios, and decks can increase your homes' value and have a huge ROI. Your next home project could bring you more money when it comes time to sell. Make your outdoor space feel like an extension of your home by adding comfortable furniture and an outdoor ceiling fan. Especially if you decide to build a pergola (they are popping up in backyards and front yards), add a weather-resistant ceiling fan to keep you comfortable.
Kitchen Double sink
Unique Sinks have been on trend for a while, but now everyone is crazy about double sinks!  What a throwback- homes built in the 1970's and older usually had double sinks. By the 1970s, most new homes were constructed with dishwashers. I can imagine the only people getting excited over this trend are the cooks in the house. Imagine a two-sink world where mess and clutter were no longer the villains of cooking.
Walk-in Pantries
This one is for all my organizers. Walk-in pantries make life easier. Installing a divisional system or rollout pantry into your tiny closet will make your life a million times better since you will no longer need to search your cabinets for that one elusive item. Your pantry can do more than organize your groceries. Central Organization Stations have become popular in many homes with limited space. The pantry can be used as a pre-station to get things done while also serving as a storage area. According to the NAHB, 85% of homebuyers would like a walk-in pantry, which is both practical from an organizational and financial standpoint.
Let this trend inspire you to clean your nook of expired granola bars and level into Marie Kondo mode.
The unanswered demand for new-home construction has inspired current homeowners to update and renovate. 2020 may have changed how we live in our homes, but 2021will change the way we feel about our homes. While homeowners wanting to move may be discouraged by lack of inventory, minor home improvement projects can make time spent at home more enjoyable. And, there is no better feeling than to see your ideas come to life.