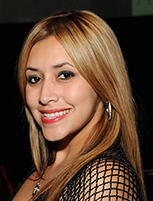 Denisez Bravo
Mortgage Specialist
MLO# 1126022
Office: 407.730.2976
Cell: 321.262.7603
eFax: 407.641.9395
Email: dbravo@meploans.com

Start an Application
"My husband and I had a great experience working with Ryan, Denisez, Ivonne and their team. They were always ahead of the process, explaining every step and provided very fast feedback to our doubts. We could not have chosen a better company!"


~ Mariah
PROFESSIONAL PROFILE
Denisez Bravo is a talented professional that joins MEP as a licensed Mortgage Specialist. She has worked in the real estate industry for more than 13 years and has specialized in all aspects of residential mortgages for the last 6 years. As a bi-lingual mortgage specialist, Denisez is dedicated to counseling and preparing clients for all phases of the mortgage application process. She provides personalized attention to every client and receives immense satisfaction from helping others achieve their goal of homeownership.
Denisez believes that Mortgage Equity Partners offer the best menu of products at extremely competitive rates and is excited to be involved with a leader in the industry. "MEP embraces technology to fine tune the mortgage application process," she said.
Denisez has an amazing passion for helping others. She will walk her clients through every step of the process and is always upfront about what is happening along the way. She believes in teamwork and empowering others to help achieve common goals.
Her passion for others can also be seen in her commitment to charitable work. For the past 7 years, she has been a volunteer for the Base Camp Children's Cancer Foundation planning and organizing charitable events. Denisez is a current board member of Celebration Community Development District. She was on the committee to promote B.A.S.E camps 2nd annual Sky Diving fundraising event and 2nd Annual Hispanic Celebrity Dinner Fundraising Event. She has also been very involved with the Summit of Puerto Rican Affairs, served as both the spokesperson and the Chairman of Host Committee. Denisez was a part of the Steering Committee for the HCCMO 2011 Business Expo.
Denisez can be reached at dbravo@meploans.com to discuss all the competitive loan programs available through Mortgage Equity Partners.