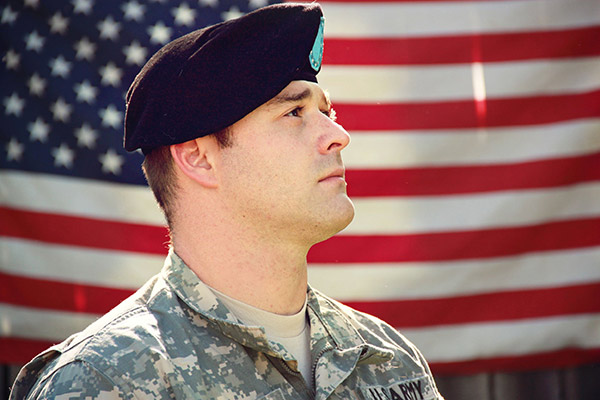 Mortgage Equity Partners is a participating VA lender having originated hundreds of VA loans since 2009. Not all lenders offer VA loans, but MEP decided early on to provide this vital program. "We have a moral obligation to support those who support our country," said Sean Riley, President of Mortgage Equity Partners. "Their job is so much harder than ours, and we want to do all we can to help them find security in homeownership."
We are also proud to be an employer of several veterans. Don Reddington, a loan officer who works in our Nashua, NH office, served in the Army for seven years. He was stationed behind the iron curtain in Berlin for four years. "The army gave me structure, discipline, and taught me concepts like honor, brotherhood, and the value of teamwork. The army forced me out of my comfort zone and exposed me to people of different cultures and races", said Don. "It has helped me in my profession in many ways. Not only the structure and discipline but when I have a borrower who is a veteran, I have insight into what they want and what they have been through. Homeownership is very important to those who have served and are trying to assimilate back into civilian life," he said.
Navy veteran and Loan Officer, Damon D'Arienzo, served from 1994-2001. "I joined the Navy because it was great opportunity to mature into adulthood and earn money for college. The military instilled in me elements of responsibility and leadership, which have helped me in my personal and professional life. As a military veteran and VA loan recipient, I can better relate to veterans, quickly earning their trust and helping guide their decisions," said Damon.
A VA loan is a mortgage that is originated by private lenders but partially guaranteed by the Department of Veterans Affairs. Since the government backs these loans, the guidelines are less strict than other conventional or government loans.
Most members of the regular military, veterans, reservists, and National Guard are eligible to apply for a VA loan. Spouses of military members who died while on active duty or as a result of a service-connected disability also can apply.
VA loans are popular because they make it easier to get financing by offering loans with no down-payment and lenient credit and income requirements. You must obtain your Certificate of Eligibility or COE before applying for a VA home loan. You are not guaranteed to get a loan just because you are a Veteran. You still need to meet the lender requirements.
Here are the benefits of VA loans:
Zero Down Purchases
No Monthly Mortgage Insurance
Affordable Monthly Payment
No Prepayment Penalties
The Mortgage is assumable
Competitive Interest Rates & Closing Fees
100% LTV on Rate and Term Refinances
90% Cash-Out Refinances
VA Streamline Refinances
Discounted Closing Costs
Contact one of our loan officers today to learn more about our VA loan programs.