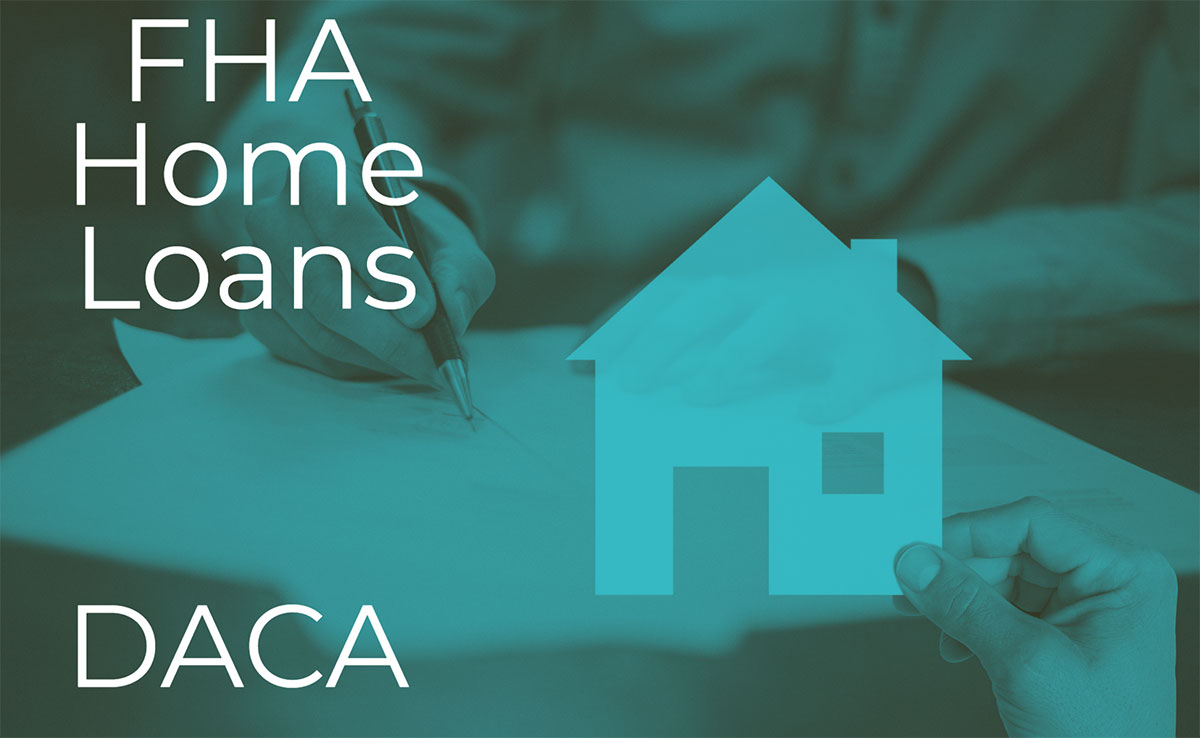 DACA stands for Deferred Action for Childhood Arrivals. The original DACA action deferred the physical removal of certain undocumented immigrants brought here as children, who have obeyed the law, stayed in school, or enlisted in the military. DACA and its associated regulations permit eligible individuals who pass a background check to request temporary relief from removal and apply for temporary work permits.
Before this ruling, DACA recipients could obtain a conventional loan to purchase a home if they could document that they were legally present and eligible to work in the US and if they met the lender's requirements as well.
The department of Housing and Urban Developments (HUD) decision to remove the specific language in the FHA Single Family Housing Handbook which states "Non-US citizens without lawful residency in the US are not eligible for FHA insured Mortgages" will allow DACA recipients to be able to apply for FHA loans.  Like all applicants, they must meet the lender and HUD requirements, but they will not be ineligible solely on their DACA status, as was the case before.
According to a HUD announcement dated 1/20/21, "The term 'lawful residency' pre-dates DACA and thus did not anticipate a situation in which a borrower might not have entered the country legally, but nevertheless be considered lawfully present," HUD said. "To avoid confusion and provide needed clarity to HUD's lending partners, FHA is waiving the above referenced FHA Handbook subsection in its entirety. In a subsequent update to the FHA Handbook, the language will be removed."
Other FHA requirements remain in effect for all potential borrowers, including DACA status recipients.
the property will be the borrower's principal residence;
the borrower has a valid Social Security Number (SSN), except for those employed by the World Bank, a foreign embassy, or equivalent employer identified by HUD;
the borrower is eligible to work in the U.S., as evidenced by the Employment Authorization Document issued by the USCIS; and
the borrower satisfies the same requirements, terms, and conditions as those for U.S. citizens.
FHA loans are structured to allow more people to qualify for mortgage financing as compared to a conventional home loan. FHA loans are an excellent option for first-time homebuyers. FHA loans are sourced through private lenders, and the government doesn't pay out the loans. The government instead insures the loan, so there is less risk for the lender involved. With this backing, lenders are more likely to approve borrowers with less-than-stellar credit.
Some of the main benefits of FHA loans include:
Lower credit score requirements and down payments
Underwriting guidelines may be slightly relaxed
Some FHA loans allow for down payments a low as 3.5% of the home price (this does not include Down Payment Assistance Programs).
There is a caveat with FHA loans. Mortgage insurance is required on FHA loans for the life of the loan, and the premiums can be expensive. Not every lender provides FHA-backed loans, but Mortgage Equity Partners is an approved lender. To learn more about FHA loans and mortgage insurance requirements, contact one of our licensed loan officers.
Sources:
Newslink.mba.org
Whitehouse.gov