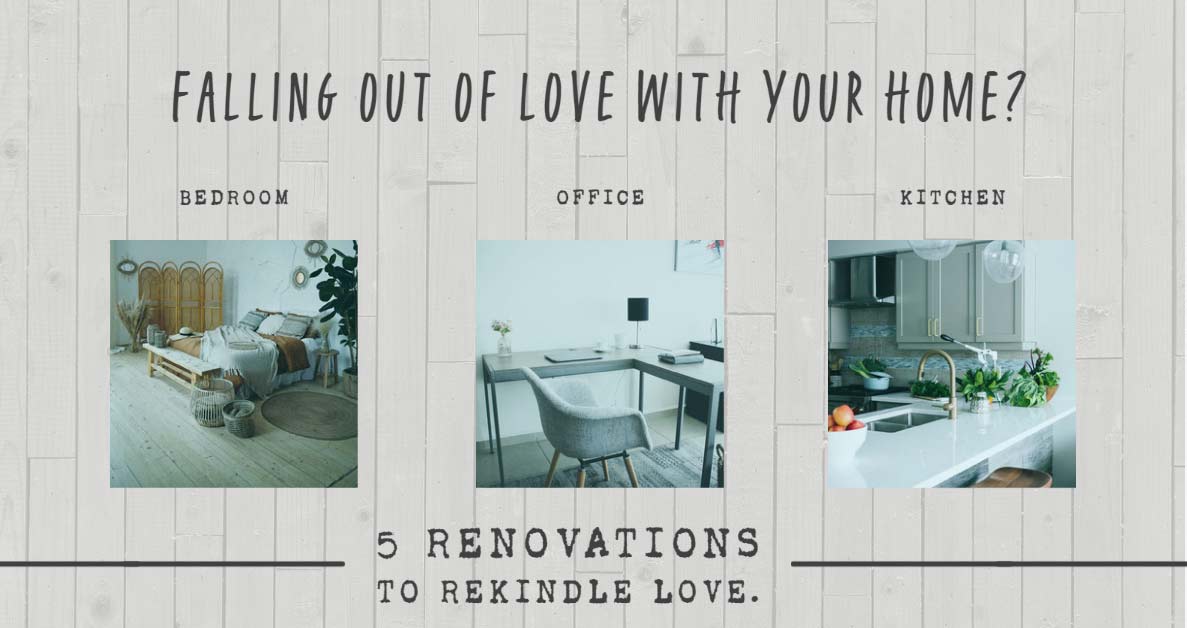 Over the past year, the home has become the office, the classroom, the gym, and our safe place. After spending so much time at home, many homeowners wonder, have I fallen out of love with my home? Does my family need more space, or do we need to do more with what we have? Home inventory is low right now. Houses are spending almost no time on the market before the highest bidder snatches them up, so before you think about selling, be sure you can get a new home that you will love to replace your current home.
In this 5 part series we will highlight the top 5 renovations of 2020.
Part 2: The Kitchen
Outside of the bedroom, the kitchen is the area people spend most of their time! It is a communal space where family and friends can gather to share a meal and create memories, which is why your kitchen is so important! The places you spend the most time in should bring you joy and inspiration. Here are some kitchen trends to help you transform yours this 2021.
Backsplashes in stone
Backsplashes can be a great way to bring patterns into your kitchen without making any massive changes. If you are on a budget, you may also purchase backsplash wallpaper to substitute for stone.
Pop of color
Pops of color have been trending this year! So why not bring it to the kitchen? If you have an island where the base can be painted, try using a bright or contrast color.
Open Shelving
If you are a person who can live with having your plates and cups shown on an open shelf, then I highly recommend this option for you! It makes a room more open and stylish, especially if the shelving contrasts with the kitchen's background color.
Funky Hardware
Unlike traditional drawer hardware, adding funky and unusual hardware to your kitchen drawers can be a fun way to spruce up your average-looking space.
Tall Cabinets
If your home or kitchen has high ceilings, this one is for you! Tall cabinets make your space look even more grand and open. It is a great way to play with space and an elegant way to make your kitchen different.
Sexy Sink (concrete, stone, marble)
Sinks are not sexy. But, modernists have found a way to revolutionize the standard kitchen sink. They now come in different shapes, sizes, and materials. This could be the new centerpiece of your kitchen.
Spray-on Counter Tops:
$300 Kitchen Makeover:
Small Kitchen Renovation:
If your final decision is to give your home one last chance before you end it, you will need to find a way to pay for these renovations. A great way to do this is to get the money from your home by doing a  cash-out refinance. A cash-out refinance is a type of mortgage refinance that uses the equity you have built over time and gives you cash in exchange for taking on a larger mortgage. You borrow more money than you owe and take the cash to use for a project of your choice.
Mortgage lenders set the requirements regarding who qualifies for a refinance. Things they consider include:
Credit Score-your credit score needs to be at least 620
Debt to income ratio – you generally need a DTI ratio of 43% or less
Equity in your home-you need at least 20% equity in your home
Appraisal – you will need a recent appraisal of your home to assess its current condition
With rates at historic lows, if you have equity in your home, you can borrow money at a much lower interest rate than you would pay if you used a credit card or financed renovations through a retailer. If you are ready to start your home makeover today, contact one of our mortgage loan officers today to learn more.
All posts in this series: