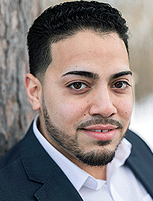 Gustavo Liranzo
Methuen Sales Manager

MLO# 1187960
Direct: 603.275.7184
eFax: 781.623.0094
Email:
gliranzo@meploans.com
Start an Application
"Mr. Gustavo Liranzo is the best Loan Officer, quite professional, with a lot of knowledge about home loans, I recommend him 100%, without him my dream of obtaining my house for my family would not be a reality."

~ Alejandra
PROFESSIONAL PROFILE
Gustavo Liranzo is an experienced loan officer and the Methuen Sales Manager specializing in matching borrowers to mortgage loans that meet their goals and objectives. He is personable and committed to providing borrowers with the highest level of service in the mortgage industry.
Gustavo has extensive knowledge of all the mortgage products in the marketplace, such as; Conventional Fixed Rate Mortgages, FHA, VA, and USDA loans. He also works with borrowers who want to take advantage of the down payment assistance programs and those who might be interested in programs that allow borrowers to finance the full amount of a home.
As a bilingual loan officer who speaks Spanish fluently, he connects with a diverse clientele to assist them with their residential lending needs. Gustavo is extremely informative and is always open to learning more to make his borrower's experience the best it can be!
Whether you are a first-time homebuyer conducting your first real estate transaction, looking to renovate your home or refinance, Gustavo can assist you.
When Gustavo is not working, he can be found spending time with his beloved family or traveling.