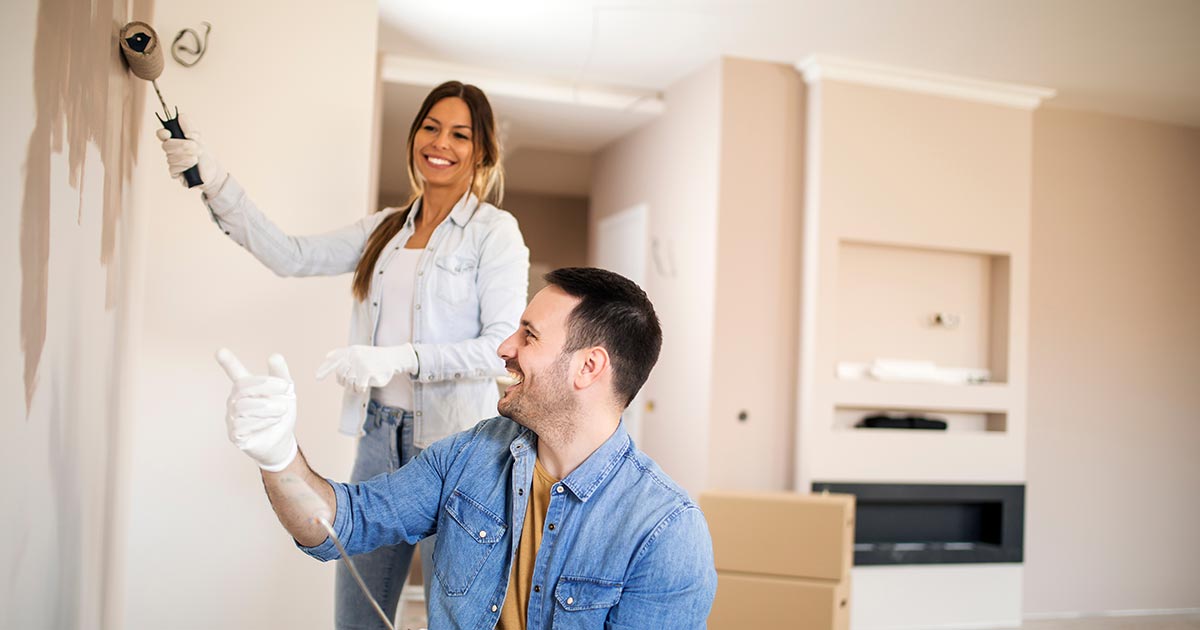 Have you been thinking about selling your home? Then I am sure you've felt the stress and pressure to make sure your home is ready to put on the market. If you want your home to sell faster and for more money, here are some surefire tips that will work and won't break your budget!
The first impression a potential buyer gets of your home is the yard and landscaping surrounding the house. Ensuring your yard is well kept and maintained can give you a step in the right direction. You only get one first impression, and good curb appeal will help! It will provide buyers with a positive impression as they enter the home. Keeping your grass well mowed and green makes the house look well managed. The addition of some flowers can also brighten up the property. It would help if you also cleared the yard of any weeds or dead plants, which would do a lot for your property's perceived value.
A fresh coat of paint to your home's exterior will help with re-sale. It is a considerable expense that new homebuyers won't want to worry about after purchasing a new home. Interior painting with a neutral, light color improves how your home looks on the inside and gives a fresher feel to the house. Since the kitchen and bathroom are the rooms that potential buyers seem to scrutinize the most, a fresh coat of paint can be a valuable investment. The main idea is that each time a potential buyer finds something they need to fix; they take value off your home. Giving the inside and outside of your home a fresh coat of paint will help you sell your home more quickly.
Updating your kitchen is very important when it comes to selling your home. Although, you might not need to spend as much as you think! According to Zillow, an upscale kitchen remodeling, which is around $125,000, only gives you a return on investment (ROI) of 53.5%. A minor kitchen remodeling that costs about $21,000 can give you an ROI of 81.1%. Simple things like replacing your countertop is a good investment because it is in a highly visible place and has a high ROI. You don't want to customize too much because you want your potential buyers to do that when they purchase your home.  It is recommended to keep your updates as neutral as possible. Another good way to help increase your home's value is to refresh your cabinets. If the cabinet's structure is stable and safe, then something as simple as replacing the knobs and giving the cabinets a fresh coat of paint can give the kitchen a fresh, clean look. Refreshing them costs a lot less than replacing them.
A bathroom has the potential to make or break your home sale. Ensuring the bathroom is up to date, and safe is crucial because customers investigate this room thoroughly. When you consider a bathroom remodel before putting your home on the market, consider the scope of the update. According to Zillow, an upscale remodeling that usually costs around $61,600 will only give you an ROI of 56.2%. A mid-range bathroom remodel which costs $19,100 can give you an ROI of 70.1%. Replacing the shower curtain, adding a bathmat, and having fresh linens out when the home is shown to potential buyers are simple ways of making your bathroom presentation look more appealing.
The floors of a home are always weathered with natural wear and tear from everyday life. Replacing your flooring will increase the properties' value. The realtor can tell the potential buyer that the homeowners just replaced the floors, which means they won't need to replace them anytime soon. New floors will give the whole home an updated feel. You need to make sure the flooring isn't unique because if the potential buyer doesn't like the style, they'll deduct the cost of redoing the floors again from the sale price. Flooring is a significant factor in buying a home and having new floors will only help you sell your home faster.
The most important thing when it comes to getting your home ready to sell is to make sure that you aren't doing too much. It's easy to get carried away with redecorating and updating home features but don't do too much because you aren't likely to see a huge ROI. Be sure things like the water heater, boiler, AC, and plumbing are working correctly and aren't dangerous; those items are essential and will be identified during a good home inspection. Then focus on the overall presentation of your home. Keep your home clean and tidy, or the small renovations you made go unnoticed. To better understand what home buyers are looking for, look at some of the homes that recently sold in your neighborhood.  And since after you sell your home, you will need to buy a new one, be sure to get your financial documents in order and get pre-approved for a mortgage to purchase your new home!