Interest rates are at their lowest level in many years. They were heading down steadily before investors fled to the bond market in response to the COVID-19 coronavirus outbreak. When investors take money from the stock market and invest in treasury bonds, the treasury note yield goes down. When the demand for bonds goes up, the treasury yields go down. Treasury yields and mortgage rates are intimately linked, so when one goes down, the other goes down, too.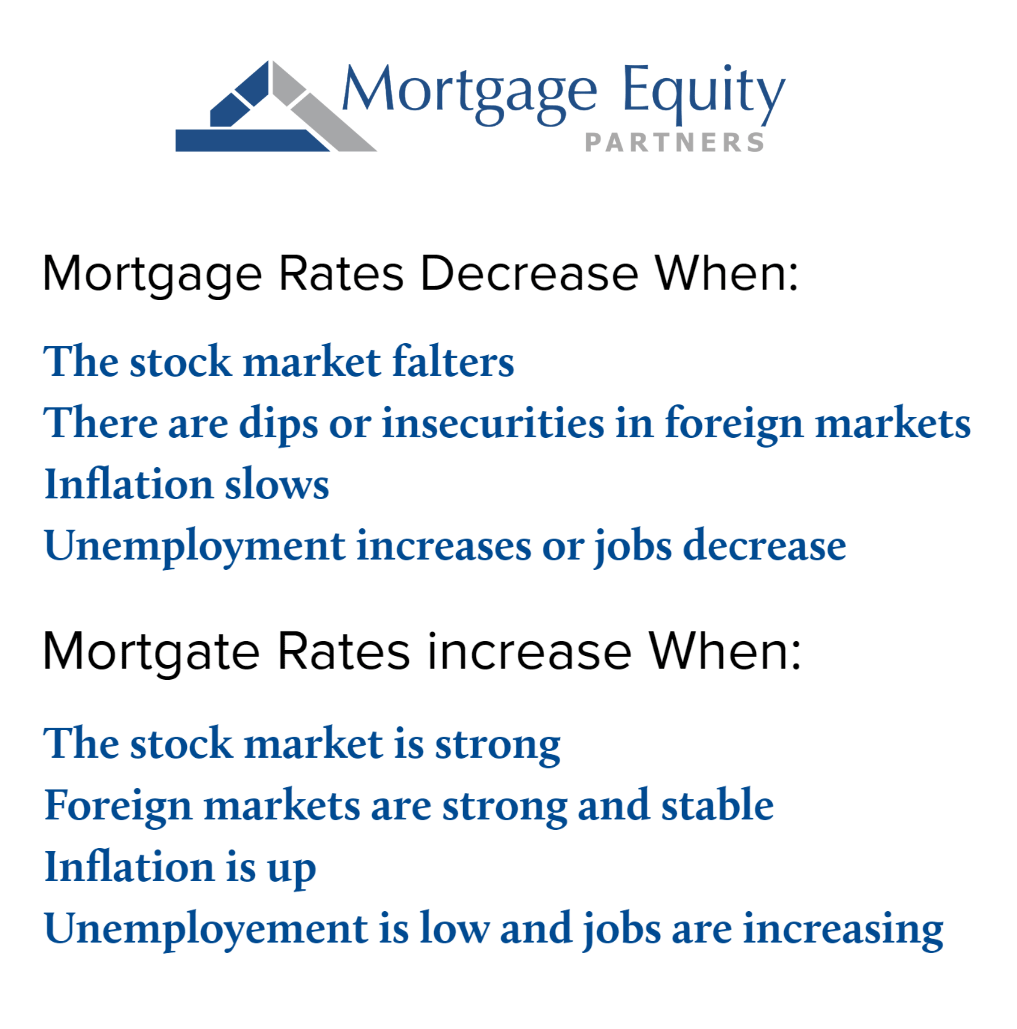 How do treasury yields affect you? The most direct way is the impact they have on fixed-rate mortgages. As yields rise, lenders realize they can charge more interest for mortgages of similar duration. The 10-year treasury affects 15-year mortgages, and the 30-year yield affects 30-year mortgages.
Because of a variety of economic and social factors, yields are down, and so are mortgage rates. How low they will go is uncertain.  The best time to get a fixed-rate home mortgage loan is when treasury yields are low. So, you might say that the current treasury yield loss is the borrower's gain.
Lower interest rates mean that you can purchase a larger, more expensive home if you are making a purchase or refinance into a lower rate if you already own a home.
If you have a mortgage that you took out within the past few years, you should contact Mortgage Equity Partners to see if it makes sense for you to refinance. Be aware that the rules about interest rates haven't changed despite the current situation taking place in the stock market. The lowest rates are still available for borrowers with excellent credit and strong payment history. But, as the overall rates continue to go down, even borrowers with less than perfect credit should see an advantage.
The average 30-year fixed-rate mortgage hit a record low this past week, the lowest level in its nearly 50-year history. Keep in mind that rates are low, driving many borrowers to refinance, and we haven't even hit peak homebuying season yet. The months of April through July generally account for more than 40% of a year's housing transactions. Since this is the time when most people start to think about buying, borrowers should be prepared with a solid loan application. Gather your documentation and spend some time reviewing your credit and payment history. If there are any inaccuracies on your credit report, get them cleared up before you apply for a loan. Do everything you can to make sure your loan application will go through underwriting quickly. Purchase loans differ from refinances, but one of the most important differences is that a purchase in most cases is time-sensitive. All lenders will be experiencing a surge in activity this spring, so you should get your loan documentation prepared in advance to ensure your loan is approved swiftly.
Interest rates are low because of the influx of investor capital into the bond market. As fears of the coronavirus subside, investors will re-invest in the stock market, and rates will trend back up to where they should be based on factors that only have to do with the housing market. If you plan to take advantage of these low rates now, contact a loan officer today. Call 877-866-4511 or apply online.
Sources:
Finance.yahoo.com, Mortgage Rates Slide again and head toward all-time lows.
Freddiemac.com, Mortgage Rates Hit All-time Low.
Smartasset.com, What is Home Buying Season?