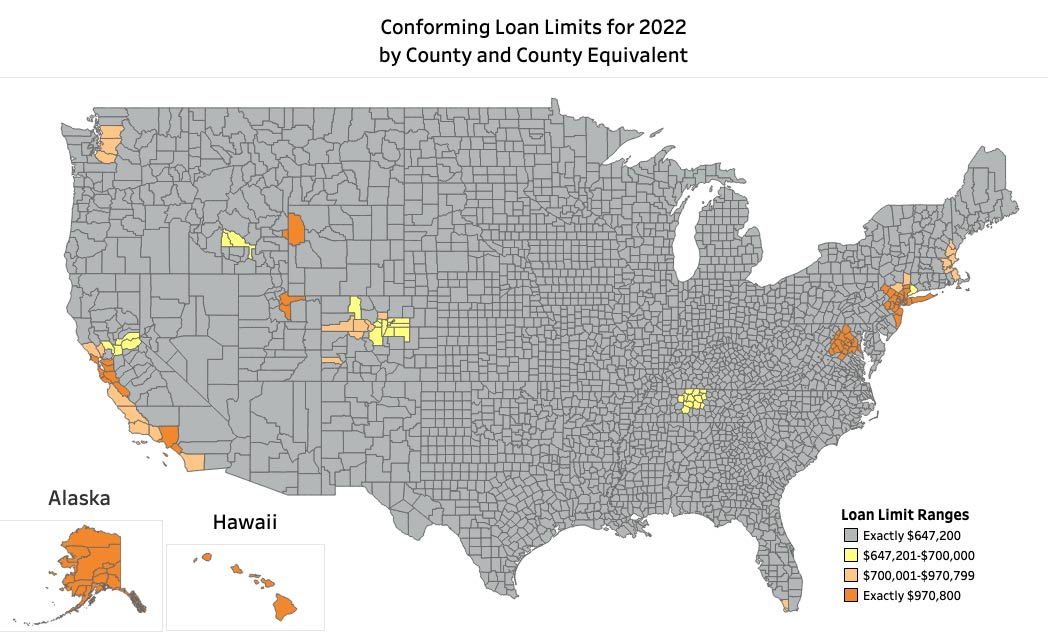 Baseline Conforming Loan limits will increase to $647,200
When the FHFA raises conforming loan limits, homeowners may get larger mortgage loans with lower interest rates. Conforming loans are generally the most attractive for homeowners since they are backed by Fannie Mae and Freddie Mac. Generally, they are the easiest to qualify for and have the lowest interest rates. This is good news for borrowers. Since home values have risen by more than 18% in most areas of the country, the FHFA has followed suit, raising conforming loan limits.
Why does this happen? The Housing and Economic Recovery Act (HERA) was created to require the conforming loan limits to be adjusted to reflect the change in the average U.S. home price. According to the FHFA House Price Index report, home prices have increased 18.05% between the third quarters of 2020 and 2021 so the baseline conforming loan limit has increased by that amount.
In most parts of the U.S., the conforming loan limit has been raised to $647,200, up from $548,250. If you were trying to borrower more than $548,250, you would have been subject to jumbo lending guidelines. A jumbo loan is a loan larger than the conforming loan limit. Since Jumbo loans are larger loan amounts, most lenders consider them riskier. Therefore, they typically have more strict qualifying guidelines and higher-interest rates. However, jumbo interest rates can vary depending on the lender, finances, and down payment amounts. When a borrower has an outstanding financial picture and presents fewer risks, rates could be similar to conforming loan rates.
Jumbo loans may also require:
Stricter proof of consistent income
Cash reserves
Liquid assets
Higher closing costs
Minimum median FICO Score of 680
Larger down payment
The other important part of this equation is that the FHFA considers that some areas are considered high-cost areas. The FHFA defines a High-Cost Area as "areas where 115% of the local median home value exceeds the $647,200." In other words, high-cost areas are where homes get super expensive. These areas also have increased loan limits to $970,800 (150% of $647,200), which means jumbo loan amounts don't kick in until the balance is greater than $970,800.
We should note that special statutory provisions establish different loan limit calculations for Alaska, Hawaii, Guam, and the U.S. Virgin Islands. In these areas, the baseline loan limit will be $970,800 for one-unit properties, but actual loan limits may be higher in some specific locations.
Increased loan limits are good for borrowers buying new homes and for homeowners with a jumbo loan. If jumbo borrowers want to move into a conventional mortgage loan or the home price has increased and is now covered under the new loan limits, this could be a great time to consider refinancing.
Contact one of our loan officers to learn more about the opportunities the increased loan limits present to borrowers. To see the conforming loan limits in your area, click on the map provided by the FHFA here.
Sources: